Mildred's Tower
See the Land she Loved
In the fall of 2009, an observation/lookout tower was erected on the highest hilltop on Grimes Farm and on one of the highest hilltops in Marshall County. The Tower, named for Mildred Grimes, one of the founding benefactors of Grimes Farm, offers a wonderful view of the Linn Creek Valley and of the rolling farms and hillsides for miles around. It's a perfect destination for a bicycle ride from Marshalltown along the Linn Creek bicycle path.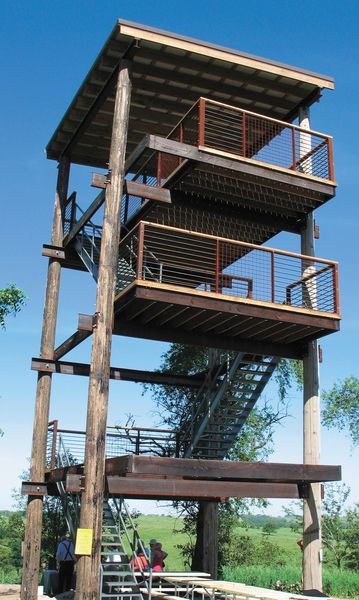 A project like Mildred's Tower can't get off the ground without the help of a number of fine sponsors and donors. Please help us give a special thanks to...
MILDRED GRIMES MEMORIAL FUND
COMMUNITY FOUNDATION OF MARSHALL COUNTY
THE GRIMES FARM RUN . . . A WALK IN THE PARK
FISHER CONTROLS INTERNATIONAL - EMERSON PRODUCTS
RUTH BENBOW MEMORIAL
IOWA VALLEY LEADERSHIP CLASS OF 2007
JOEL BEANE / RITA FREDERICH
GRAHAM WATT MEMORIAL
GEORGE BRYAN FUND
EAA CHAPTER 675
GLENN / SHARON DEPEW
CONSUMERS ENERGY
ALLIANT ENERGY
Be sure to visit Mildred's Tower at Grimes Farm soon!